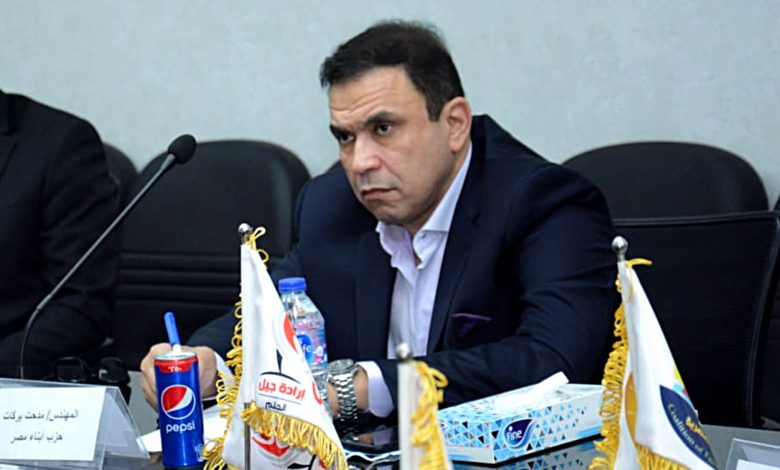 Eng. Medhat Barakat, head of the Sons of Egypt party and a member of the Executive Office of the Egyptian Parties Alliance, denounced the European position on the human rights file in Egypt.
Medhat Barakat stressed, in his speech at the meeting of the Executive Office of the Alliance of Parties, held today, Saturday at the headquarters of the Will of Generation party, that the European Parliament's statement is politicized by evidence that it demanded the release of only terrorist Brotherhood members and other names who participated in terrorist operations and did not request the release of other prisoners as if he only wanted to It gives freedom to terrorist elements to fire the Egyptian state again.
The engineer, Medhat Barakat, confirmed that Egypt has the most prestigious judicial systems in the world, and that there are no detainees in Egypt, but there are prisoners serving their sentences for committing heinous crimes in broad daylight, leaving martyrs and injured, including children and women, and they confessed to these heinous crimes. What confirms the double European standards about them.
Medhat Barakat also condemned the re-presentation of the Italian Regeni case despite the fact that the investigation has not ended, and its exploitation to pressure Egypt to compromise in regional files known to all, stressing that Egypt is not subject to blackmail.
Engineer Medhat Barakat confirmed that Egypt is facing desperate attempts to undermine it, especially after it has regained all its health, strength, influence and regional influence during the era of President Abdel Fattah El-Sisi, President of the Republic.
Medhat Barakat added that democracy does not exist in countries eaten by conflicts and wars where bread is the basis of life, stressing that Egypt has regained its stability, security and prestige as it builds its democratic institutions within the natural development of political systems in history, and no one can dictate what to do.
In the meeting of the Executive Office headed by Engineer Tayseer Matar, Eng. Medhat Barakat called on the Egyptian parties to fill the void in partisan and political life so that the forces of evil would not exploit them, especially the terrorist Muslim Brotherhood, which is not ashamed to ally itself with the enemies of the homeland and cheer for everyone who offends him and bullying abroad.
During his speech, Medhat Barakat referred to the experience of the Sons of Egypt Party, which ran in the last parliamentary elections in competition with the Future of the Nation Party and was able to achieve high results in many governorates, explaining that opportunities exist for parties to participate in the wide political life and spread in the Egyptian street and solve citizens' problems.
Medhat Barakat stressed the need to line up with one hand behind the political leadership in this delicate circumstance, and the head of the Sons of Egypt party indicated that Cairo would not break its heads and would never bow its head before any force, regardless of its east or west.