Urgent
ARTISTS WITH BEIRUT
BENEFIT ONLINE AUCTION FOR BEIRUT SEPTEMBER 25th TO OCTOBER 2nd 2020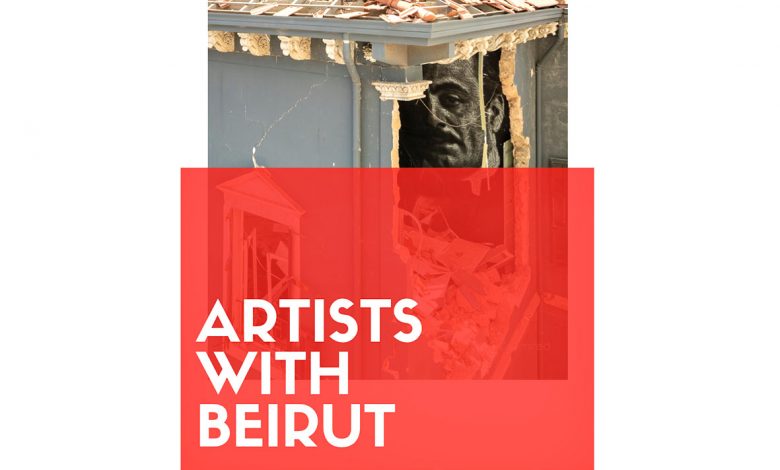 ARTISTS WITH BEIRUT
BENEFIT ONLINE AUCTION FOR BEIRUT SEPTEMBER 25thTO OCTOBER 2nd2020
In Solidarity: International Artists to Raise Relief Funds for Lebanon
LOS ANGELES, SEPTEMBER 2020

"Artists with Beirut" was born out of a heartfelt need to show support and solidarity with the people of Beirut, Lebanon in the aftermath of the apocalyptic blast that occurred on August 4, 2020 at the Beirut Port.
"Artists with Beirut" is an online benefit art auction to help raise relief funds for the 300,000 people rendered homeless from the explosion.
All funds raised will go directly to the Beirut Emergency Fund 2020,a coalition comprised of Lebanese diaspora organizations SEAL, LIFE, LebNet,Jamhour Alumni (US/Europe) and Kuwait-America Foundation, focused on supporting non-profit, non-governmental organizations working to meet the humanitarian relief among vulnerable populations impacted by the explosion. Funds will be disbursed with full transparency to well-vetted NGOs according to the most pressing needs, which include Shelter and Rehabilitation for households, SMEs, Medical and Mental Health.
The auction will be showcased on ArtScoops, an online auction house and marketplace from September 25thto October 2nd2020. A preview for early bids will take place from the 22ndto the 24th of September 2020.
The architect behind the initiative is El Gemayel-d'Herbécourt, a French-Lebanese filmmaker and philanthropist based in Los Angeles. "As I watched the catastrophic scenes from the Beirut explosion, I could almost feel its tremor in my home. With my mind still reeling from the shock I realised there was something I could and knew how to do: fundraise. I immediately contacted a few artist friends and their response was heartwarming. That's how "Artists with Beirut" was born."
Against a canvas of desolation, the art community came together in a global show of humanitarian solidarity to raise funds for the devastated city. Like a real collage,over 42 artists from 10 cities in 7 countries donated their precious artworks to be auctioned online.
It has been a little over a month since the horrific explosion occurred and the need for humanitarian support is still huge.
Nadine Massoud, CEO of LIFE and spokesperson for the Beirut Emergency Fund, said "The ongoing drastic deterioration in Lebanon's economic and financial situation has rendered the daily living conditions in Lebanon unbearable. The catastrophic explosion that hit Beirut has, in addition to the loss of human life and the injury of thousands, caused massive destruction.
The journey to reconstruct and to provide the Lebanese with the basic requirements for their daily life will be a long one and will require the consistent support of Lebanese in the diaspora but also Friends of Lebanon. This auction is a noteworthy initiative that will contribute much needed funds to our country by mobilizing the world of art."
Art Scoops COO May Bendki Mamarbachi said "As worldwide support and love for this city in need continues, ArtScoops is delighted to be joining the relief efforts with this auction as we care deeply for those that have been affected by the disaster."
El Gemayel-d'Herbécourtadded "We trust that the international community and global Lebanese diaspora will generously support us in the same way the artists have. Every penny counts."
Artists with Beirut online benefit art auction will be held from September 25thto October 2nd, 2020 on Art Scoops https://artscoops.com/auctions/artists-with-beirut-online-auction. A preview will take place from 22-24 September 2020.
PARTICIPATING ARTISTS WHO DONATED ARTWORKS
From Los Angeles: Gregory Beylerian, Javiera Estrada, Joséphine Wister Faure, Francesca Gabbiani, Sharon Kagan, Susan Lizotte, Cynthia Minet, Tania Mikaela, Mr Brainswash, Rob Reynolds, Eddie Ruscha, Marianne Sadowski, Miko Saijo, Larry Yust
From Beirut: Akil Ahmad, Ihab Ahmad, Carl W. Brandien (donated from a collector in Lebanon), Nevine Bouez, Mansour El Habre, Jimmy El Homsy, Aram Jughian, Irene Ghanem, Laure Ghorayeb, Dia Mradd, Katya A.Traboulsi, Tony Ward Couture (Worldwide)
From Paris: Sandra Detourbet, Atiq Rahimi, Francois Moret, Jean-Marc Nahas, Zoulliart
From Montreal: Joseph Chahfé, Sayeh Sarfaraz
From New York: Sumayyah Samaha, Adam Handler, Cherien Dabis
From Washington D.C.: Victor Ekpuk
From New York / Beirut: Rania Matar
From Los Angeles / Marseille: Harry Abbou
From Beirut / Paris: Vladimir Antaki, Serge Najjar
From Beirut / Brussels: Jean Boghossian
From London / Paris / Tehran: Afarin Sajedi
From Los Angeles / Paris: Guillaume Zuili
From London / Beirut: Zena Assi
 CURATORS & GALLERISTS WHO HAVE OFFERED SUPPORT
Anne-Dominique Toussaint, French producer of Nadine Labaki's films and owner of Galerie Cinéma in Paris.
Amir Hossein Etemad, owner of Etemad Gallery in Tehran
Izzat Hachem, owner of Belvedere Art Space in Beirut
Margot Ross, curator at Show Gallery in Los Angeles
Rita & Imad Abou Rizk, owners of Coin d'Art in Beirut
Nadine Begdache, owner of Janine Rubeiz Gallery in Beirut
Naila Kettaneh, owner of Galerie Tanit in Beirut and Munich



ABOUT THE BEIRUT EMERGENCY FUND 2020
All money raised will be paid directly to the Beirut Emergency Fund 2020, a unified humanitarian effort by the following diaspora organizations:
Social and Economic Action for Lebanon, SEAL USA,  a 501(c)(3) non-profit and non-political organization based in New York City. EIN#: 13-3953466. www.seal-usa.org
Lebanese International Financial Executives (LIFE), non-profit and non-political organization based in the UK with registered charities in the US, Canada, Switzerland, Australia and Lebanon. www.lifelebanon.comwww.lifelebanon.org
ABOUT ARTSCOOPS & FOUNDERS
ArtScoops is an auction house and online marketplace presenting contemporary MENA art and objects from artists and galleries and arranging private sales. The platform was founded in 2015 by May Mamarbachi (Co-Founder and COO) and Raya Mamarbachi (Co-Founder and CEO).
May Mamarbachi has decades of experience in the art world, recently specializing in the organization of high-profile exhibitions and auctioneering of art from the MENA region. She has overseen biannual auctions (March – October) for ArtScoops. Her role ranges from managing the online marketplace and auction house for contemporary MENA art and objects, to coordinating with artists and galleries and arranging private sales. May obtained her BA and MA in Islamic Art and Archeology between 1996 and 1998 from the School of Oriental & African Studies (SOAS) and Sotheby's, both in London, UK.
Raya Mamarbachi has been a key player on the regional art scene since launching ArtScoops. Raya oversees the digital platform's regular online and on-site auctions of contemporary MENA art and objects, private sales and valuations. Raya holds an MBA from Henley Management College, England, and an MA in Management and Spanish from St Andrews University, Scotland. 
ABOUT SABINE EL GEMAYEL – D'HERBÉCOURT 
Sabine is a French Lebanese filmmaker based in Los Angeles and a descendant of a long line of philanthropists. Her family founded the first orphanage of 'S.O.S Children's Village' as well as 'Longue Vie', a nonprofit retirement home for the elderly, both in Bhersaf, Lebanon. She is presently a board member of 'Longue Vie'. Sabine volunteers in leadership roles with a focus on fundraising. Over the past fifteen year, she helped raise over $650,000 for her children's schools. Her documentary 'Generation Zapped' was partly funded by crowdfunding with Indiegogo and Kickstarter. Sabine is the recipient of over $475,000 in grants from the French Government Fond Sud and private American foundations.
 ABOUT MIRA HAWA
Mira is a Danish-Lebanese Beirut based fervent, dynamic and proactive communication specialist and project designer. With a diverse global network, Mira has worked with emerging and established creatives and has represented them in London Design Biennale, Institut du Monde Arabe, La Biennale di Venezia – International Art Exhibition, Dubai Design Week, Art Dubai, Beirut Design Week and Beirut Design Fair, amongst others.
ARTISTS WITH BEIRUT TEAM SUPPORTERS
Carolyn Saad, Pascale Ghali, Maria Kazan Sorger
 FOR PRESS ENQUIRIES PLEASE CONTACT
Mira Hawa, Communication & Outreach at:

[email protected]

  + 961 3 839 289